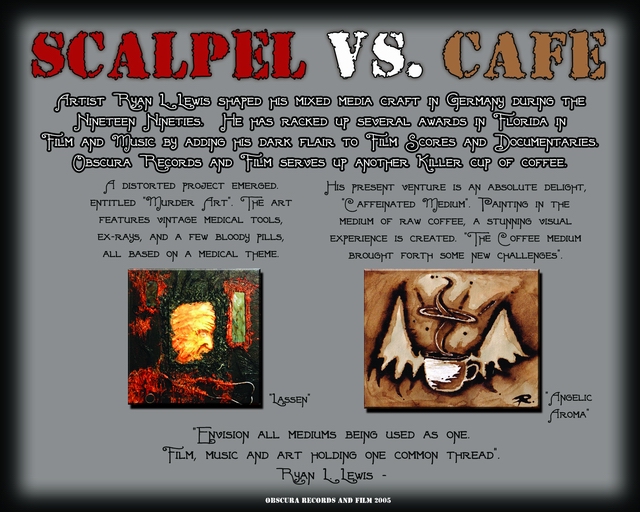 (Painted with coffee by Ryan Lewis)
Check out the ART page for the latest paintings using coffee as a medium! CHAUD!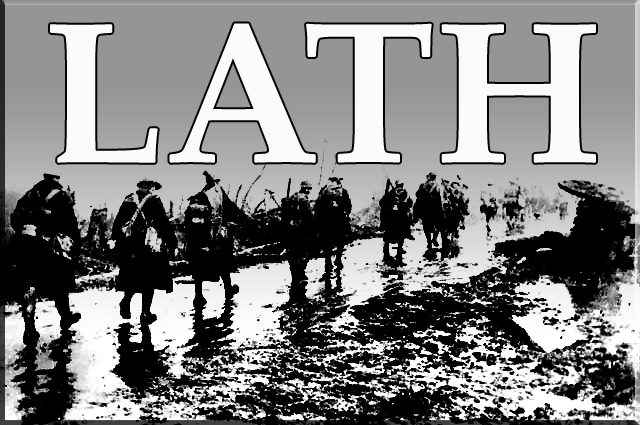 'Lath' will be the latest project from Obscura Records & Film. It will feature recordings & audio reinactments based on different battles & turning points from The First World War. The historical details of the battles including the assassination of Franz Ferdinand will be included into the collage of sound & story. Sound effects, keys, guitars, found objects & quest voice over talent will be used to bring these graphic historical wartime poems to life.
~~~~~~~~~~~~~~~~~~~~~~~~~~~
After a long wait and struggle we are glad to have "film noise" Barefoot Machete's debut audio release available for purchase.
Click here to get this release!
What's this Barefoot Machete?
"As a long time writer for the New York Post I have decided to go out on a limb & express my opinions reguarding this music that I have ran across known as Barefoot Machete. I can't believe that a person can get away with taking this kind of so called "music" out into the public. I personally would love to get my hands around that little pencil necked geek that is so steadly pumping out this GARBAGE! But as a professional journalist I must be fair & unbiased to everyone & respect each human's right to his or her own artistic adventures. But please god make this Barefoot Machete nonsense stop before we all shot our heads off in this great nation that we call America. Isn't it bad enough that Bush got re-elected?"
'Admin Duty' has been selected for screening at
The Melbourne Independent Film Festival.
We are very pleased with out come of this project. Filmed in the UK & scored in Florida. Please come out to the screening.
Special guests already include James Best (The Dukes of Hazzard), Stephen Campbell (Sheena,The Waterboy, Monster), Mike Daniel-director of the Burt Reynolds Museum, Michael Bailey Smith (Men in Black 2, Charmed, The Fantastic Four) , and distributor Michael S. Broder of Small Planet Pictures.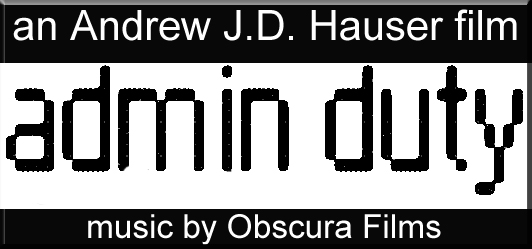 Kent Film Production in The United Kingdom has finished a collaboration with Obscura Films Music Production for the scoring of the film ADMIN DUTY.
See our FILMS page for a sample!

Written & Directed by
ANDREW J. D. HAUSER
Film Score by Barefoot Machete.

Quicker than you think...COMING SOON! The new record from Barefoot Machete. This recording has had alot of collaboration with other artists & all is on schedule with the realease date.
"****'s" -says Today's Music & Noise Magazine.
Now online the newest madness from Barefoot Machete is here!
Click here to watch & listen to Tree People from Barefoot Machete.